Penzburg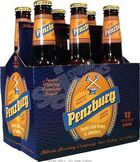 ---
---
---
Featured in
Community
Desperate Housewives
Heroes
Jean-Claude Van Johnson
Life
Lost
My Name Is Earl
New Girl
Pretty Little Liars
Sons of Anarchy
Superbad
Terminator: The Sarah Connor Chronicles
Traffic Light
The Mentalist
The Originals
Rizzoli & Isiles
---

Penzburg is a brand of beer created by Independent Studio Services as a prop for several TV shows, such as Desperate Housewives, Lost, My Name Is Earl and Heroes and the movie Superbad.
Overview
The packaging of the beer mentions that the brand is brewed by the Bilson Brewing Company based in Sun Valley.
Appearances
The Mentalist (SO3E10) - Two bottles under a chair when Patrick Jane goes to talk to Virgil Minnelli fishing at the pier     

Rizzoli & Isiles Season 6 episode 4
Brooklyn Nine Nine (S06E03) - Jake Peralta drinks Penzburg at a bar
Community – "Ladders" (S06E01)
A student is seen drinking the beer during the "Ladders" class.
Jean-Claude Van Johnson (S01E04) - A man who gets drunk on Penzburg beer puts a hand on Vanessa's buttocks.
Lost – "Something Nice Back Home" (S04E10)
Jack Shephard drinks from a bottle of Penzburg beer as he swallows pills.
Parks and Recreation – "Hunting Trip" (S02E10)
Cans of Penzburg and FG Beer can be seen during the toast.
Terminator: The Sarah Connor Chronicles – "Automatic for the People" (S02E02)
Sarah Connor drinks Penzburg beer at a bar.
Traffic Light – "Pilot" (S01E01)
Mike drinks Penzburg at a bar.
Traffic Light – "All the Precedent's Men" (S01E03)
Seen throughout the episode.
Anger Management season 2 episode 17
charle sheen and his father drink Penzburg beer cans on a bench
The Originals - "The Brothers That Care Forgot" (S2:E8)
Jack is drinking a can of Penzburg at 10am out in the Bayou.
MIKE & MOLLY
Several episodes
See also seen in Chicago PD appeared on10/18/17 Hank Voit was consuming it at Molly's bar.
Previous S3E16: Antonio drinks Penzburg at home
Gallery