Los Pollos Hermanos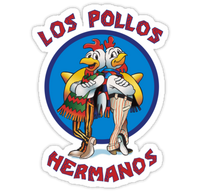 Location
Albuquerque, USA
---
---
---
Los Pollos Hermanos is a fast-food restaurant chain specialized in fried chicken in Breaking Bad.
Overview
Edit
Founded by Gustavo Fring and Max Arciniega. Los Pollos Hermanos is a subsidiary of Madrigal Elektromotoren, a German conglomerate. The fast food chain doubles as a front for Gustavo's drug manufacturing and distribution business. The restaurant chain became defunct after Fring's death.
The name is Spanish for "the chicken brothers".
See also
Edit